The First Day of School Celebration in Russia. Part 1
1964. USSR. Near Moscow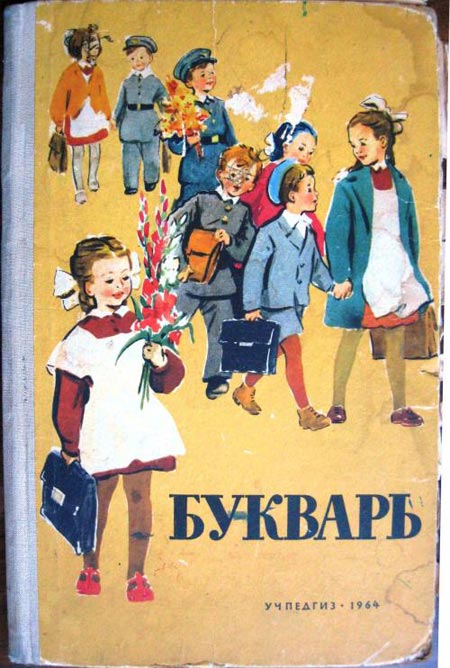 When I remember my first day at school, there was no celebration. Just before that long anticipated day I got a beautiful brown leather briefcase with a silver buckle at the end of year celebration at my kindergarten. It had a case for pens, a Bukvar (the textbook to learn reading), cut up letters and numbers, and colorful pencils, a pen, an eraser, some paints, a paintbrush and a collection of multi-colored craft paper. I was ready to take it all with me to my first day of school. However I did not get to do it, and I did not get to put on my new brown dress with a white apron (the school uniform) and there were no big white ribbons in the hair for me.
During the celebration of the first day of school I was lying under quarantine in a hospital for infectious diseases and measuring my temperature. I was sick with hepatitis. I was lying there, thinking "How did I manage to get sick right before such a long awaited celebration?!"
And here is how it happened: my friend and neighbor Ludka (we went to the same group in kindergarten) met me in the street just before the 1st of September. She was all covered up in a sweater and scarf (and it was summer!) and she looked so pitiful. When I asked her why she was so sad, she said she got sick and they were about to go to see the doctor. And then it turned out that she had hepatitis and was taken to the hospital.  But I did not know it yet, she was looking so pitiful and her eyes were some weird yellow color, so I not only hugged her before she left, but also kissed her on the cheek,.
Ludka and I ended up staying in the same room at the hospital. The windows had metal bars, and we could talk to our relatives only through the tightly shut windows of the room, which was on the first floor. No contact.
When a month later I stepped into my 1A class at school my first teacher, Augusta Grigorievna, started by introducing me to all the other kids and then told me to sit down at the back of the classroom, as all the other places were taken. That day I was wearing a black everyday apron and not a white one, and the ribbons in my hair were not white but brown. That was an everyday uniform for the girls.
I quickly caught up with the kids in my group as thanks to my eldest sister, who loved playing school with me (she was the teacher and I was the student), I could already read, count, and was also good at handwriting.

The feeling that I missed such an important day in the life of every Russian child stayed with me for a long time in my head as well as in my heart. That's why I decided that when I would have my kids, I would definitely make a wonderful and memorable 1st of September/Day of Knowledge for them.
Gala
ПРАЗДНИЧНЫЙ ДЕНЬ ПЕРВОГО СЕНТЯБРЯ. ЧАСТЬ 1
1964 год. СССР. Подмосковье.

Если очень постараться и вспомнить мой первый поход в школу, т.е.праздник 1-е сентября, то у меня  его, к сожалению, просто не было. Я только успела получить на выпускном вечере в нашем детском садике свой красивый коричневый портфель с серебристым замком посерединке, в котором находились : пенал, букварь , разрезная азбука для букв и цифр, цветные карандаши , ручка, ластик, краски, кисточки и набор цветной бумаги. Но сам праздник, когда я должна была надеть свою новенькую коричневую форму с белым фартуком и большими белыми бантами, для меня, к сожалению, не состоялся.
В этот самый торжественный день я лежала в палате инфекционной больницы и измеряла с утра температуру. У меня был обнаружен гепатит. Лежала и думала о том, что как же это так меня угораздило заболеть именно накануне самого долгожданного праздника! Да очень просто. Моя соседка и подружка, с которой мы ходили в одну выпускную группу нашего детского садика, Людка, незадолго до этого встретила меня на улице. Она вся была закутана в кофты и платок (это летом-то!) и выглядела очень жалко. Когда я ее спросила, почему она такая грустная, она ответила мне, что заболела, и они с мамой сейчас должны пойти к врачу. И потом только выяснилось, что заболела она – гепатитом и ее положили в больницу. А я -то на прощание не только обняла ее, но и поцеловала в щечку – уж очень у нее был тогда жалостливый вид, да и глаза какие-то непонятные , желтого цвета.
С Людкой мы даже лежали в одной палате. На окнах были железные решётки ,и общаться с нашими родными мы могли только через закрытые наглухо окна нашей палаты, которая находилась на первом этаже. Прямого контакта нам не разрешалось.

Когда через месяц я появилась в своём  1-ом « А» классе, то наша первая учительница Августа Григорьевна сначала представила меня ребятам, а потом посадила за предпоследнюю парту, потому что остальные места были уже заняты. Фартук в этот день был на мне уже не белый а черного цвета (повседневный) и ленточки в косах не белые , а коричневые. Тогда так полагалось.
Я очень быстро догнала своих одноклассников, потому что , благодаря моей старшей сестре, которая любила играть со мной в школу ( она – учительница, я – ученица ) к тому времени уже умела не только читать и считать , но и писать прописи.
И эта моя обделённость  единственным в жизни каждого ребёнка первым таким праздником, надолго застряла у меня в голове и сердце. И поэтому я решила, что когда у меня будут дети, я обязательно устрою им самый прекрасный и запоминающийся День Знаний, так он теперь называется, или праздник  1-е  сентября.
Gala